Shopping in Paris - My Fave Five
Posted on February 23 2016
Adapted from a post on my personal travel blog, One Girl's Adventures. 
When I dream of Paris, my first thoughts are always of fresh, warm baguettes, sitting outside sipping rosé at a charming café, adorable French men in their chic neck scarves and the sparkling Eiffel Tower...and not necessarily in that order. And whenever I arrive in my beloved City of Light, these are the things I first set out to do (you can decide if that is a pun or not). Once satisfied the next important element of my Parisian experience is always hitting the rues with credit cards from companies in hand that have been properly notified of my impending international spending spree. It is time to shop!
Having just returned from Paris, I can still feel that tingly thrill in my belly that a day at my favorite boutiques brings. Not wanting to be completely selfish, I thought I would share my favorite five so you TOO can have that tingly thing happen next time you visit.
Paris' icon as seen from Pont Alexander III
La Vaissellerie
 La Vaissellerie on 85 Rue de Rennes
It is impossible for me to go to Paris and not visit this kitchy kitchen and souvenir shop at least 5 times. There is something about it that draws me in, even if I just had been in the day before. Packed to the brim with porcelain dishes, mugs, platters, cheese knives, kitchen ware, mini Le Creuset cocottes and cafe au lait bowls it is a feast for the eyes. Outside on the street they have more "bargain bin" items like contraptions to keep you camembert cheese from not smelling up the fridge for 3 euro and sweet little spice jars that says things like, "Aire de Provence," for 1 Euro. I like to pick up items like blinged-out butter knives or cappuccino spoons adorned with cats or hearts as gifts. You can even find placemats with the map of the Paris metro or little freezable jackets to drape over your champagne when serving it. The staff is always lovely and wraps all your gifts for you!
Tip: The stores are small and usually jammed full of Parisians and tourists alike.  Don't hesitate to grab a shopping basket at the door and squeeze yourself in.  Somehow there is always room for everyone!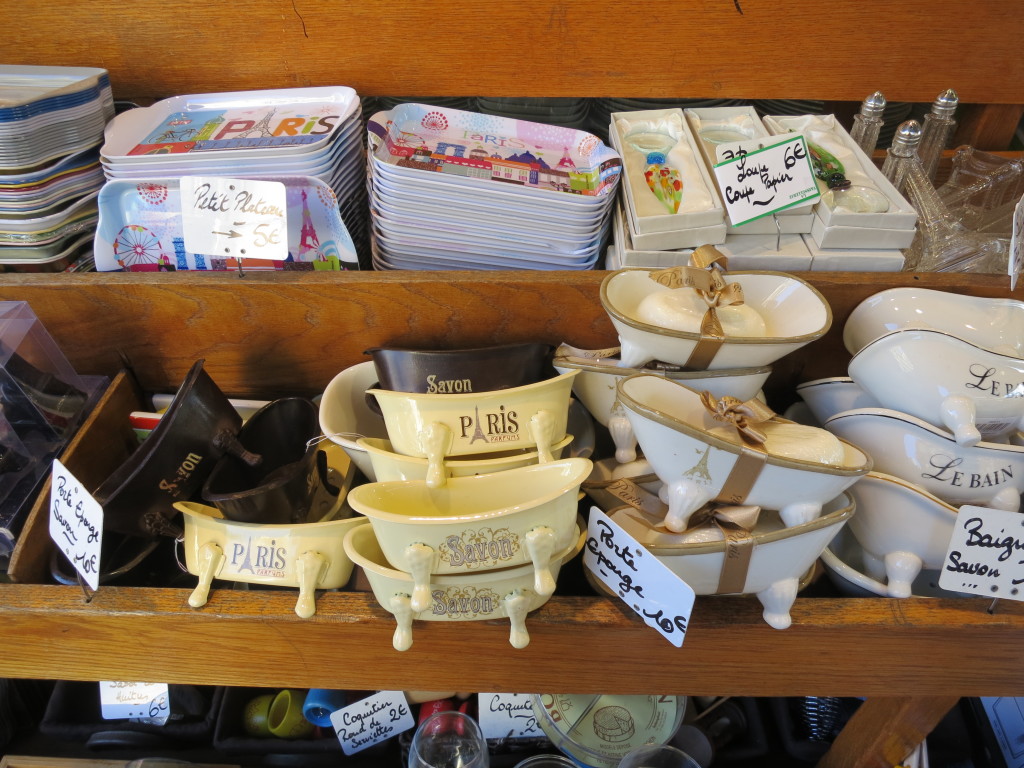 What friend of yours wouldn't want a mini-bathtub with "Paris" on it!
2. Tara Jarmon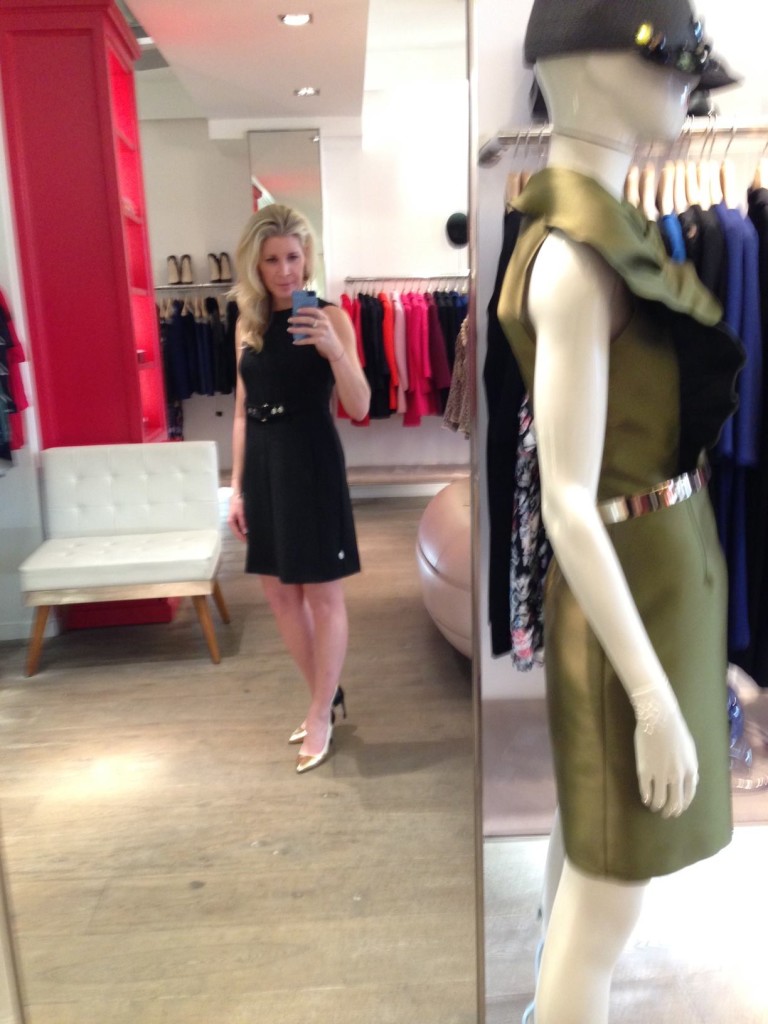 Tara Jarmon at 18 Rue de Four 75006
Elegant, feminine and chic is how I feel every time I wear one of the pieces from this Paris-based Canadian designer's self-named collection. She loves jewel colors and classic lines. Her designs have a vintage style but are completely modern...like Princess Kate meets Audrey Hepburn (and apparently the princess wore one of Tara's coats when preggers with Prince George). AND if you like shoes, fashion jewelry and scarves you will be in for a bigger treat.
Tip: Because you won't be able to just buy one dress at Tara Jarmon (you will likely need the lovely heels and peacoat that accessorize it nicely), I recommend you shop during the January and July "soldes" when price points plummet 30-75%.  Bring an extra pair of hands to help haul the loot back to the hotel.
3. Satellite Paris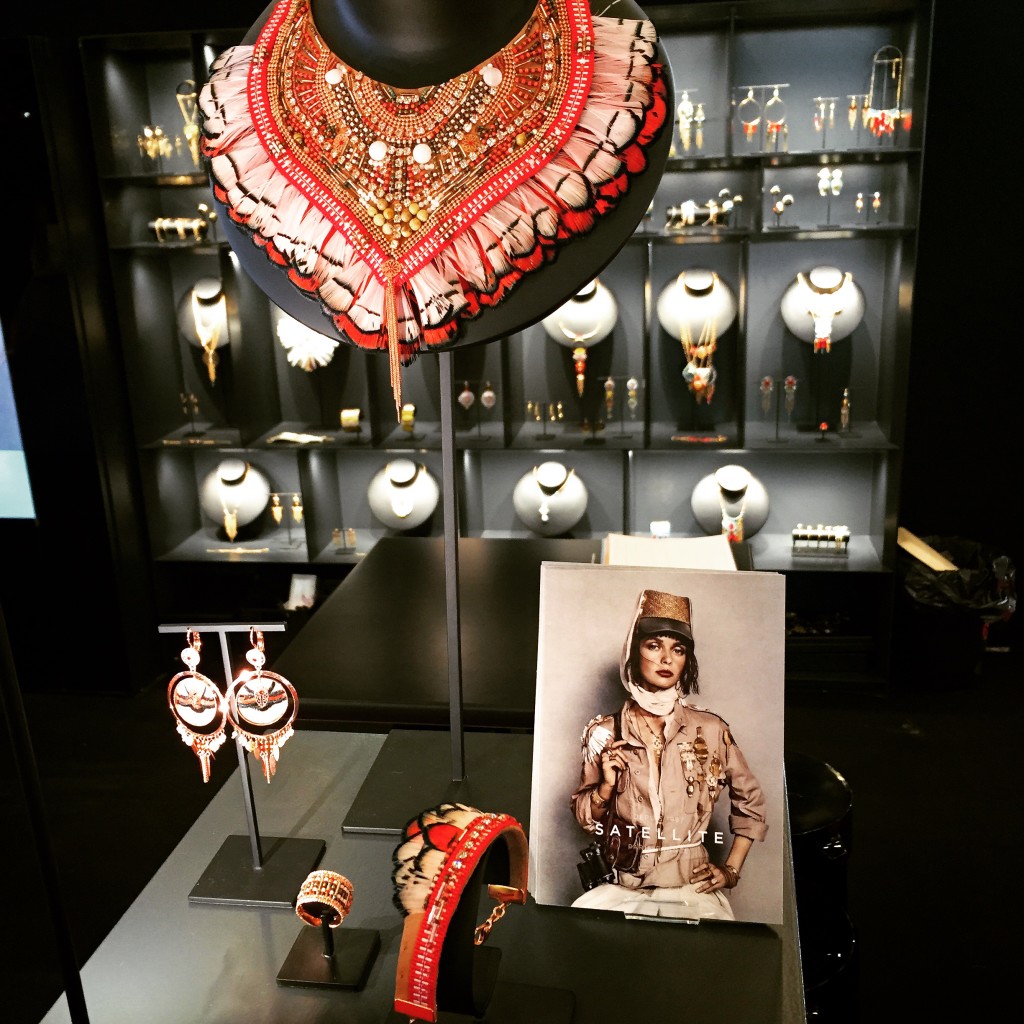 This high fashion jewelry shop is in all the best arrondissements in Paris and was my "go to" spot for gifts (for myself and others) when I lived in Paris. The handmade designs using tribal, baroque or couture elements literally mesmerized me...and still do! In fact my fascination for this jewelry line persists so much that I feature the globally inspired work of designer, Sandrine Ouaki, in my shop as well. I love the captivating story the jewelry tells about the riches the world has to offer, and I know you will too!
Tip: Go to the Satellite Paris shop on 10 rue du Vieux Colombier, 75006, to meet the designer's sister-in-law.  Tell her hi from me and let her set you up with the most beautiful and inspiring jewels in Paris.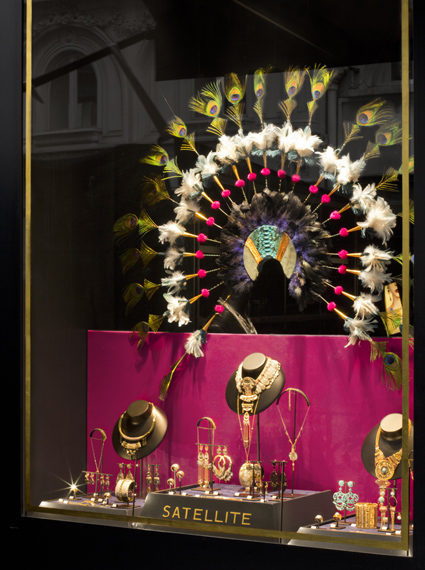 4. Christian Louboutin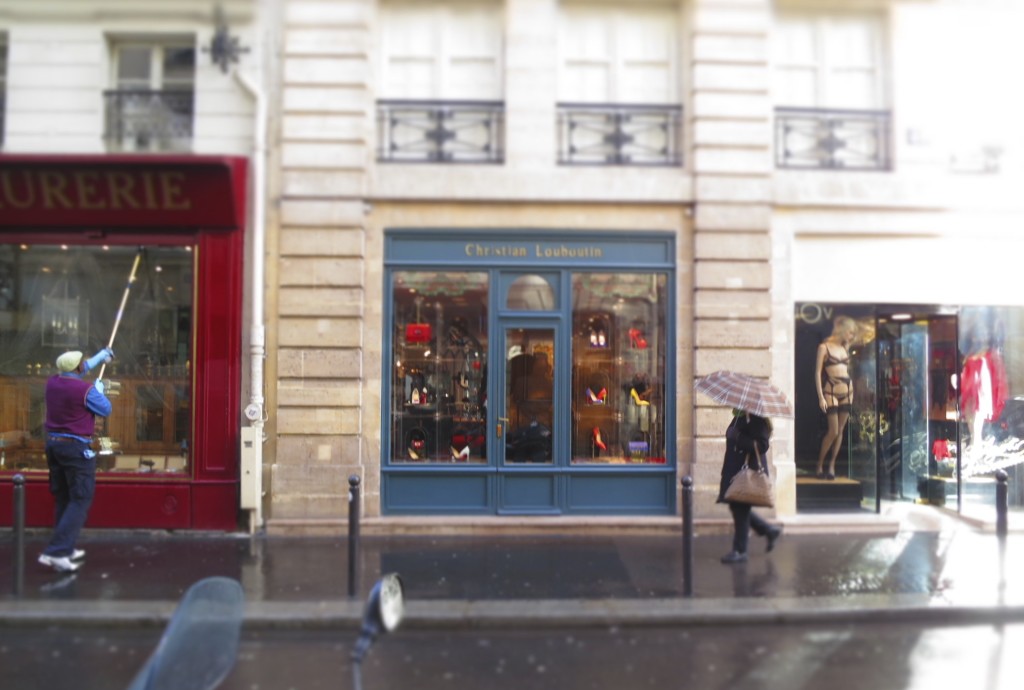 The luxury shoe retailer on 38-40 Rue de Grenelle, 75007
In French the translation for what we call "window shopping" is "window licking," and while living close to this famous designer boutique in the 7eme one could often find me "licking" its windows. Granted I can't say I have "shopped" it often, but I find the habit of walking by it and drooling over the splendid red soled shoes hard to quit. There is usually a line outside to get in, but if you have the time and the deep pockets to match I recommend a visit.
Tip: Even if you don't want to wait in line to shop the shoes, Rue de Grenelle is worth a visit as it is one of the best shopping streets in Paris. Prada, Carven, Missoni or Repetto won't have the same lines to get in, but the treasures that await you are just as pretty.
5. La Grande Épicerie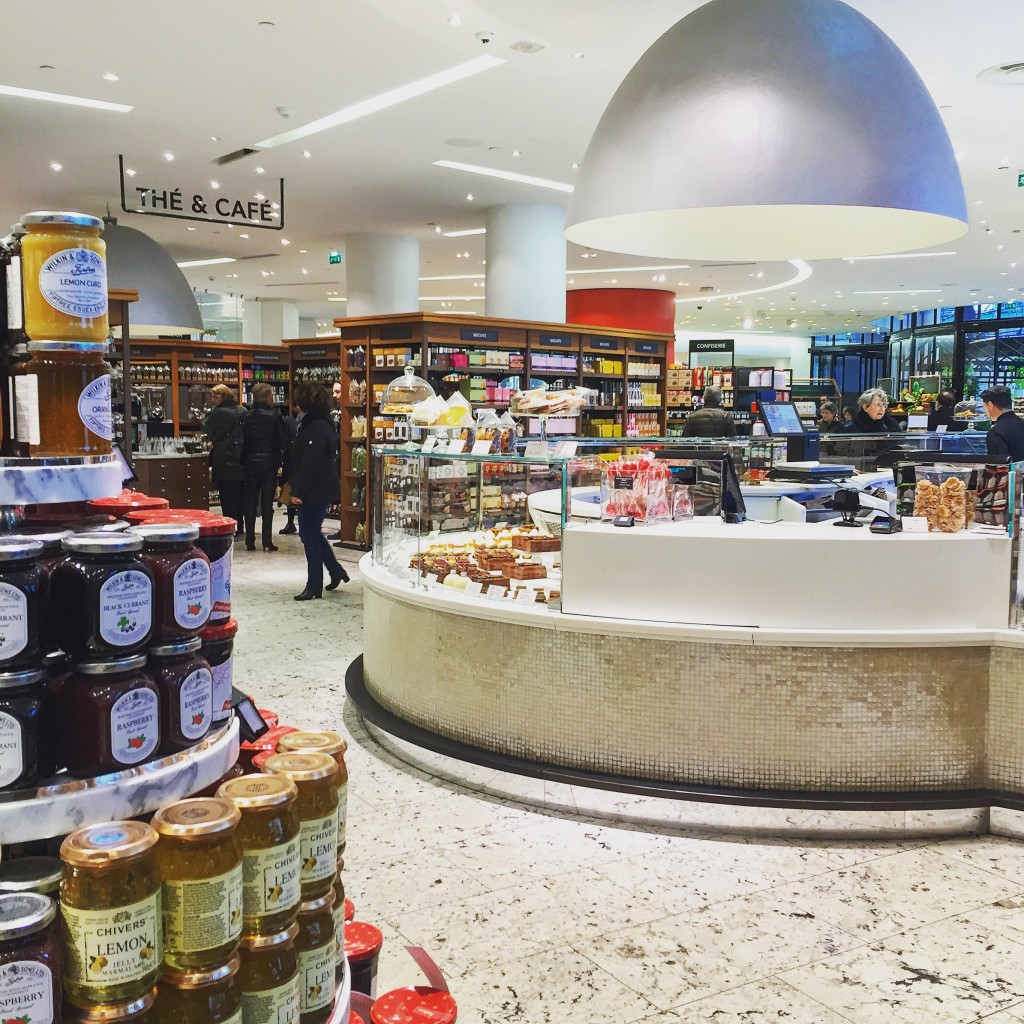 La Grande Épicerie is the magnificent food hall of the Le Bon Marché department store. So if food excites you...this place will knock your socks off! I go there for foie gras, magnificent patisserie, 50 Euro a bottle water (Just Kidding! but I have seen it there!), sugar cubes in the shape of the Eiffel Tower and logo cotton shopping bags that make perfect little hostess gifts. It is worth going in just to browse the fresh fruit and vegetable section and to gaze upon the real produce truck used as its centerpiece. Perhaps like me, it will bring to mind retail space decorating practices used by Banana Republic circa 1980s...anyone else remember jeeps hanging from the ceiling?!
Tip: This place is SO MUCH more than just a grocery store. Go for a fresh seafood lunch paired with a delicious French wine or buy yourself the perfect souvenir of 4 water glasses imprinted with the Eiffel Tower...don't worry, I won't be mad you copied me.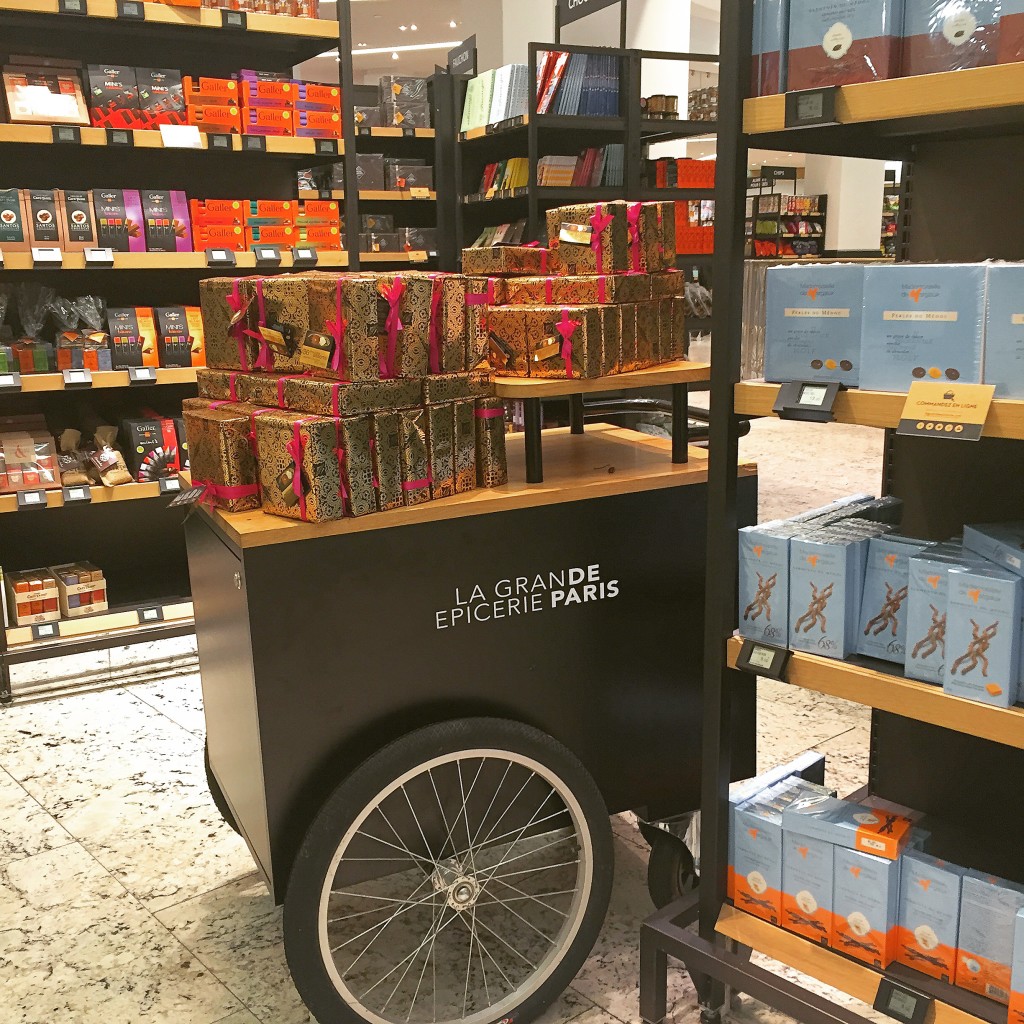 Voila! My Fave Five! And while I do have other places in the city that I like to shop, I literally won't leave the country without having graced the doors of each of these...and lets not try to imagine the desperate scene that would come to pass if I had to.
What is your list of favorites? I would love to know as a repertoire of posh Parisian shops to explore can never be too long!
Now go shop where ever you are! It will make you SPARKLE!