My 5 Favorite Destinations...So Far
Posted on June 30 2015
Since we are spotlighting Israel this week, I stole this post from my personal travel blog, One Girl's Adventures, as I highlight Jerusalem as one of my favorite destinations so far!
What are your favorite destinations....so far?
***
One of the most ubiquitous questions I get when people learn of my travel bug is, "So what has been your favorite place to visit?" Internally this questions usually makes me all queasy and stressed.  The thought, "How dare they ask me to name just one!" creeps into my mind and then I typically expel a deep breath and dauntedly respond with a weak smile, "Oh, that is a hard one!"
However, today I have decided to take on this intimidating question and actually list my top 5 travel destinations to date!  I chose these five because the experience of my visit to each left such an impression that I dream of going back time and time again. These destinations took over all my senses and evoked emotions that, well, just got me addicted.
Of course, I would be remiss to say that I have not been forever changed by encounters in all of the 38 countries I have visited and lived in to date….but for now, these 5 corners of our globe lead as stand-out.  Let me know if you agree :).
In no particular order (cuz that would really cause my my brain to spiral into collapse), here are my 5:
1) Jerusalem, Israel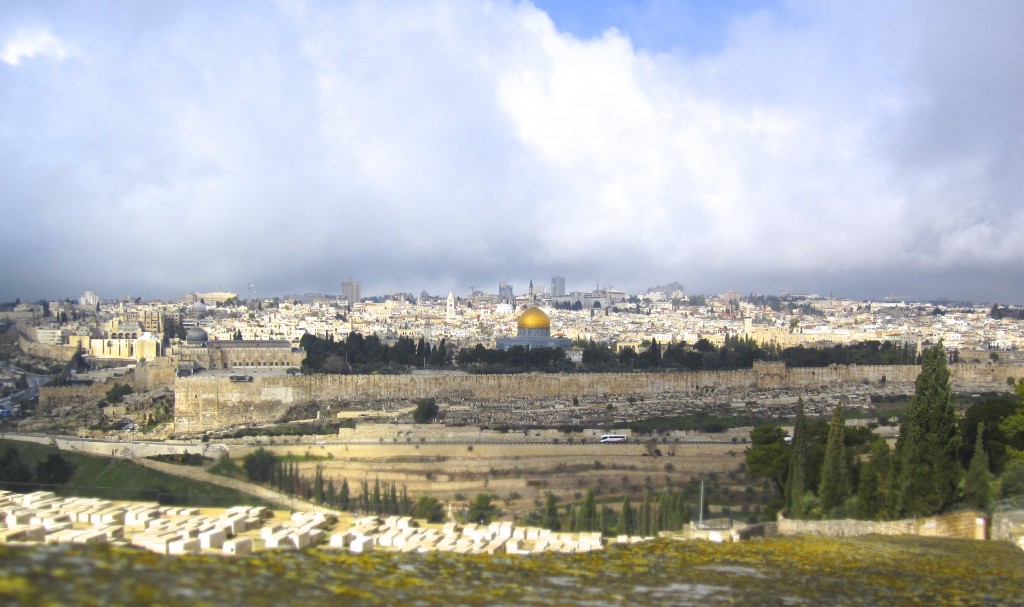 Dome of the Rock in the Old City, Jeruseleum
To be in the city that is considered sacred by 3 of the most important religions on our planet is overwhelming. The history and significance of this ancient city is palpable, and there is a magic in walking the narrow, stone streets of the Old City, witnessing the worship at the Western Wall and gazing upon the golden Dome of the Rock that doesn't exist anywhere else on the planet. Jerusalem, traditionally speaking, is where Jesus walked, Mohammed made his ascent to heaven and Abraham prepared to sacrifice his son. How can that not make a remarkable, lifelong impression!
I made the trip in February of 2010 after seeing the Dead Sea Scrolls at the ROM in Toronto, Canada. Although I am not one for organized tours, I decided that in order to fully appreciate and learn about the religious and geopolitical importance of this part of our globe I would make an exception.  I chose to accompany acclaimed radio talk show host and scholar, Michael Medved, on one of his annual visits. My plan is return with this same group in 2015. The thought of visiting the Kotel at night still gives me tingles. A return visit also means I will be able to properly blog about the experience as my last visit was before this travel log was even started!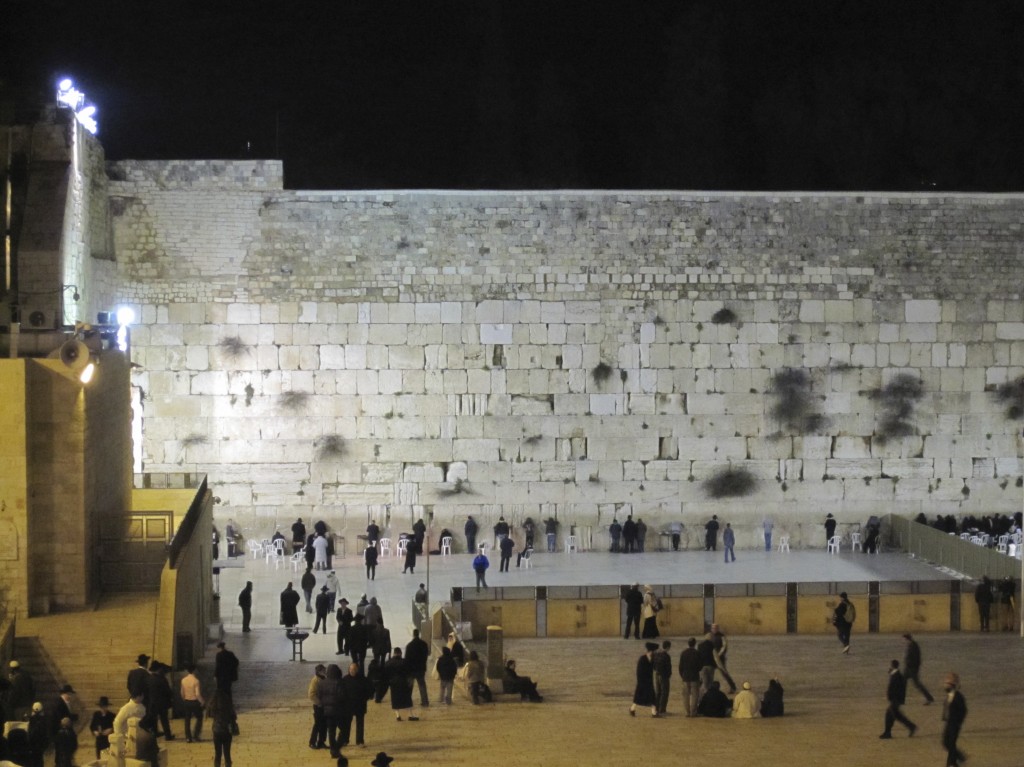 The Western Wall at Night
2) Udaipur, India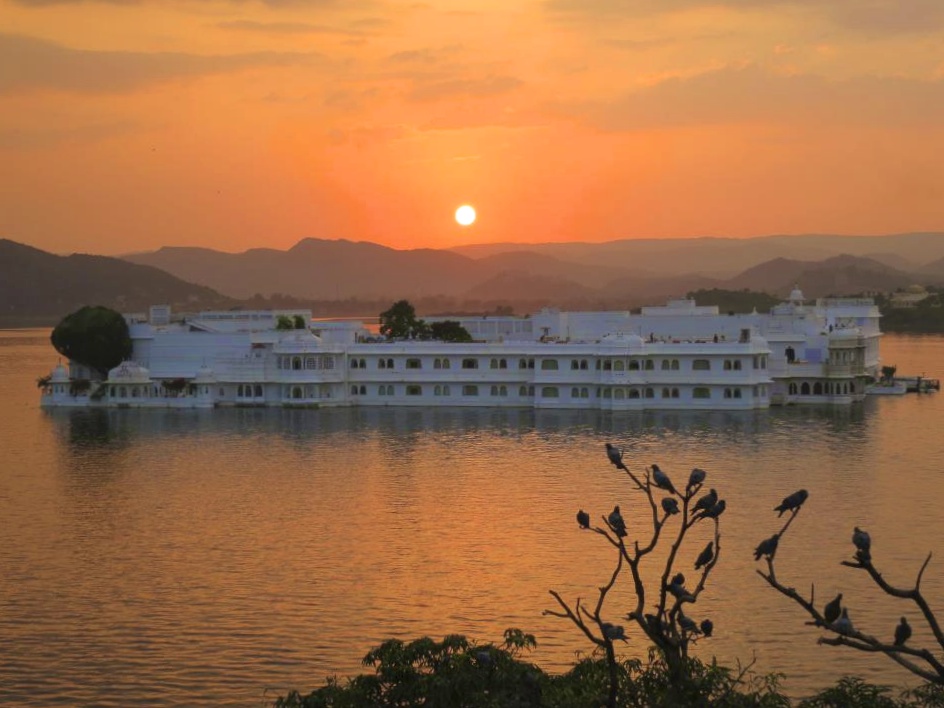 The Lake Palace at Sunset in Udaipur, India
There is a romance I found in Udaipur that I haven't felt in other cities. I was completely captured by this "jewel of Rajasthan" and found my 5 days there wasn't nearly enough. Udaipur kept me intrigued and entranced by its regal history, palaces that seemed to be floating and story book sunsets.  It also helped that I befriended a local whose family provided cashmere to the Majarana himself…so my shopping fix was more than satiated :).  However, my time in Udaipur wasn't completely roses and rainbows, and you can read all the juicy details here….but that hasn't stopped me of dreaming of going back!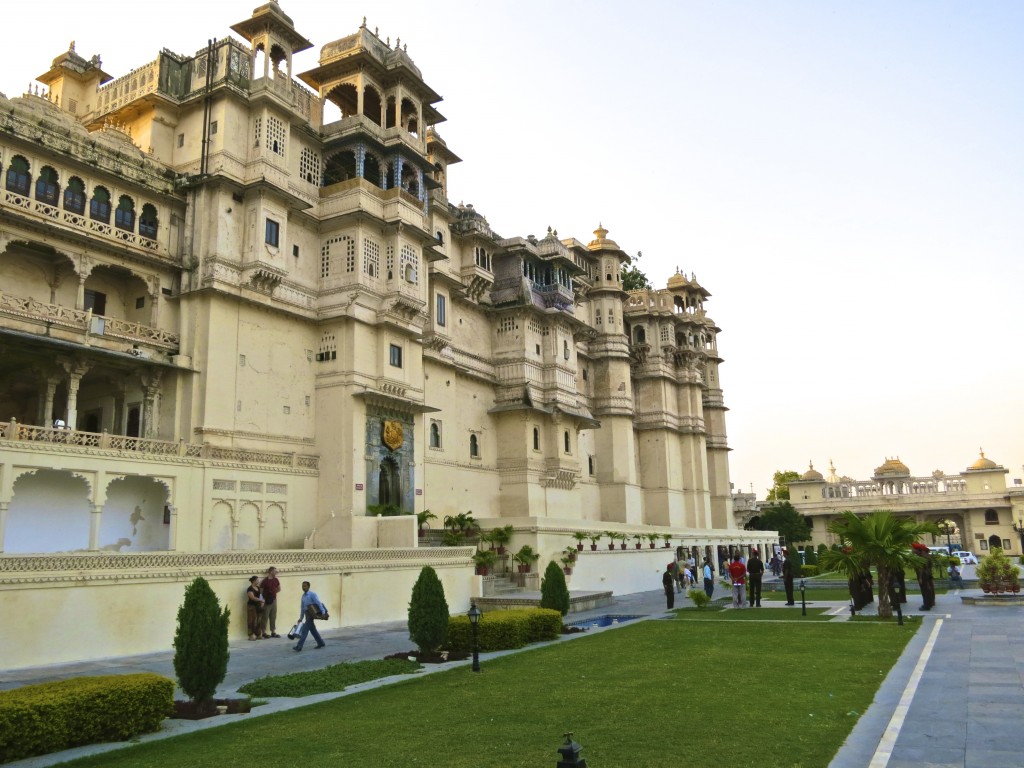 The City Palace in Udaipur

3) Manuel Antonio, Costa Rica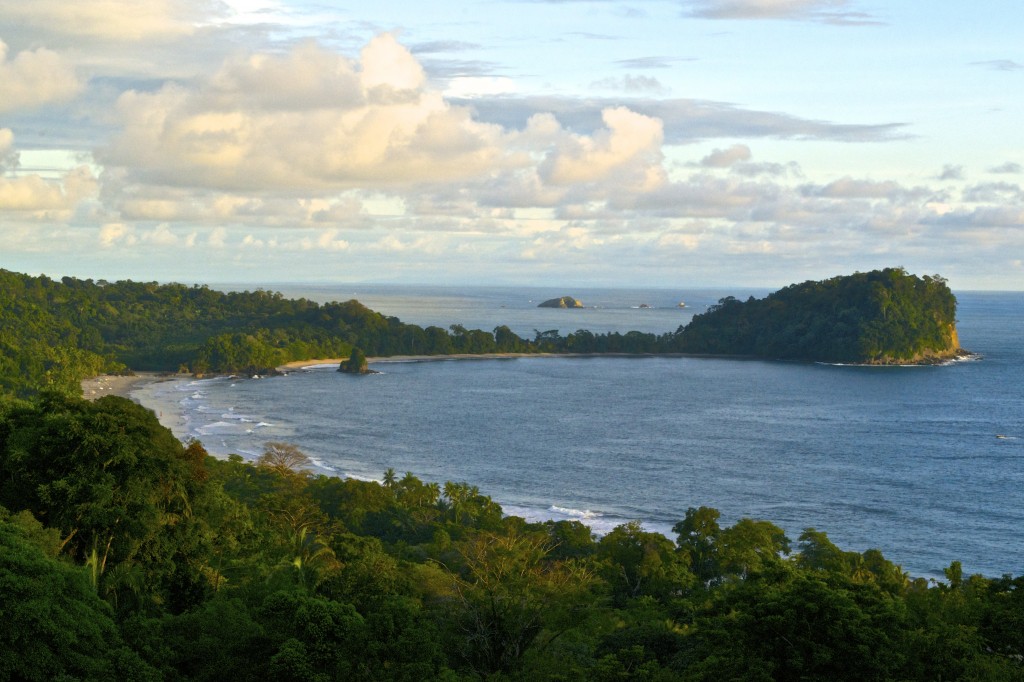 View onto one of the the beaches in the National Park, Manuel Antonio, in Costa
I did live in Costa Rica for a year as a Rotary Ambassadorial Scholar back in 1998 so it may have an edge for that reason alone.  BUT I think anyplace where one can find toucans, an active volcano, zip lines, adorable monkeys and my favorite insect in the world, leaf-cutter ants, has to make a "favorites" list.  I am particularly fond of their famous national park, Manuel Antonio, on the Pacific side of the country. To learn more about all the reasons I find this place and this country so special, jump over to check out my experiences there in October, 2013. You will be planning your trip soon.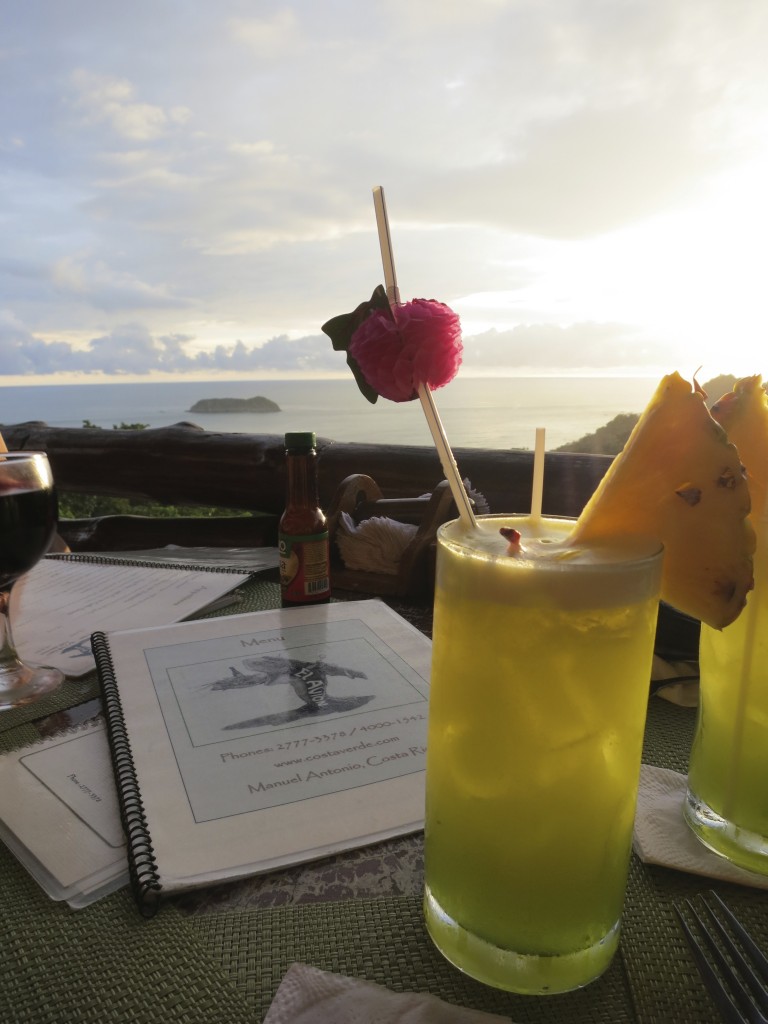 Cocktail at "El Avion" at Sunset
4) Djenné, Mali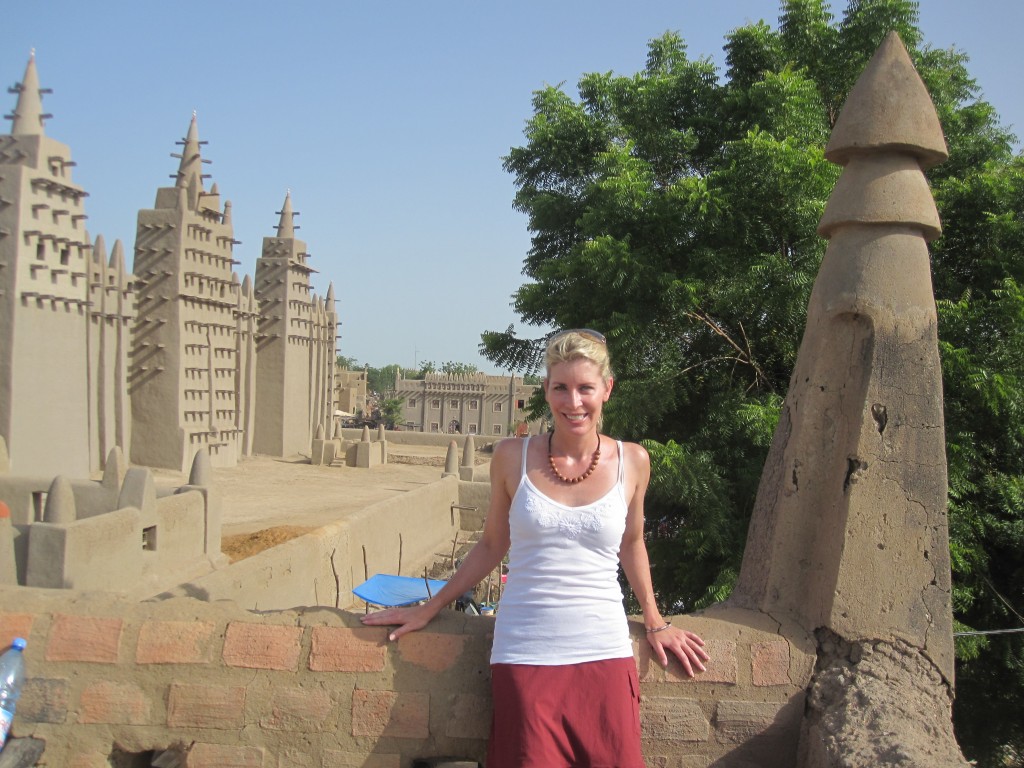 Generally speaking there is no method to choosing the countries to which I set course, usually just madness. Such is the case of Mali. After seeing a photograph at an art fair in Tempe, AZ of the Grand Mosque in Djenné, Mali (made of mud!), my internal compass set its course to this West African country.  All I could think as I gazed upon the photo admiring the exotic and colorful clad women selling their goods at its base was, "If that place exists on our planet, I must see it."  Two visas, seven vaccinations and six months later I was witnessing the mud spirals and the weekly market first hand. There is something very powerful about the human will, and I was extremely proud and happy when I glimpsed that mud mosque with my own eyes for the first time.  This encounter with an art fair photo led to the experience which launched this blog (see my first post here) and so many other adventures since.  I so wish to go back to Djenné someday. Read about all my experiences in Mali here….even a little meltdown in this city that was the impetus of the entire journey.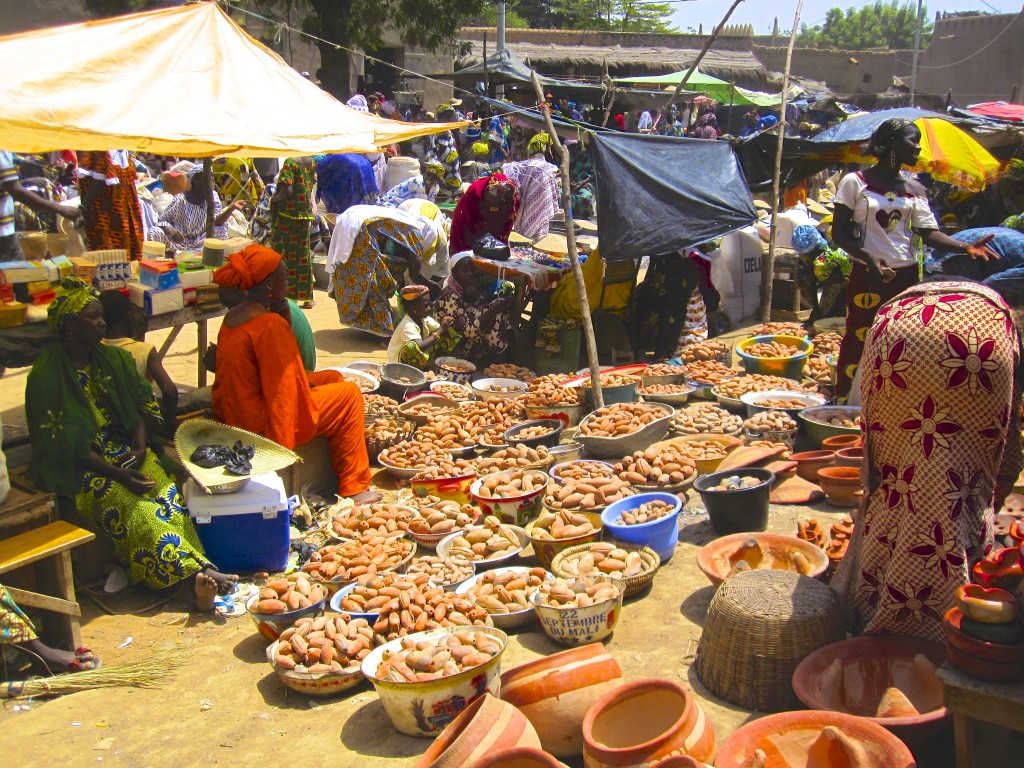 Women selling sweet potatoes at the base of the mosque
5) Paris, France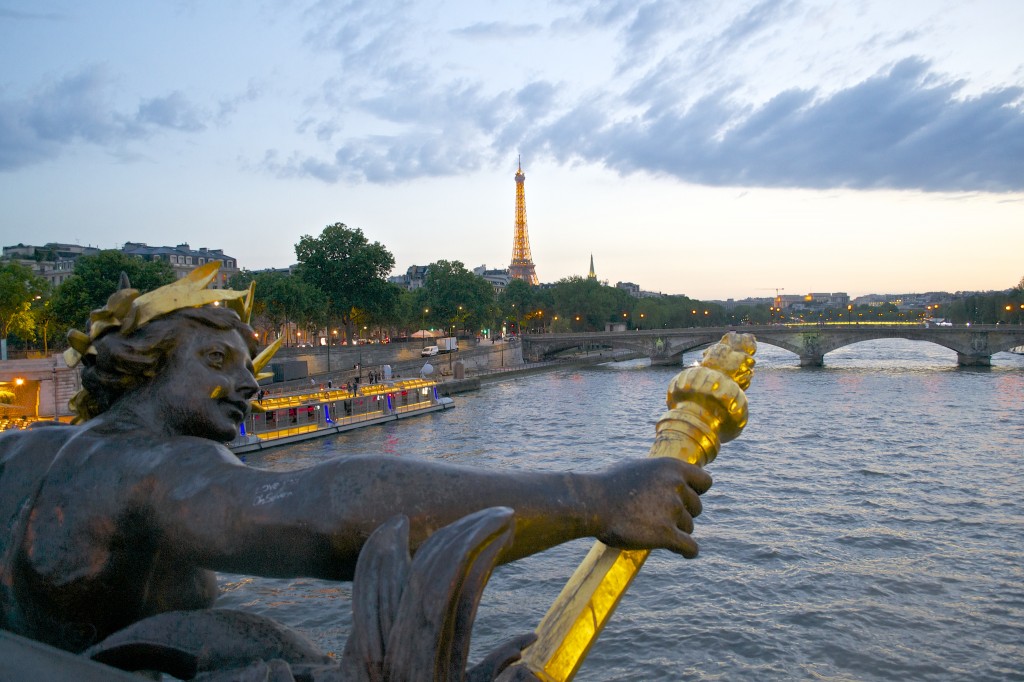 My Paris! 
Knock you over with a feather, right!? Ah, yes, I know this is no surprise…but in some ways it is.  I was never one of those girls that dreamed of Paris. Nope. I never was a Francophile nor wanted to learn French. It all just sort of happened…but it was one of the best things that every happened.  There is indeed something – a je ne sais quoi, right?! –  about the famous City of Light that resonated with my soul, and it may very well be my favorite place in this world. However, since I haven't been everywhere yet it is indeed too quick to say (but I have a feeling I am right). I do love Paris for all that it is – elegant, timeless, intimate, historic, charming, artful, formal, food and wine centric – and I loved the way I felt living there – romantic, cultured, sexy, sophisticated, charming, natural.  This blog I wrote after I returned home from living there for almost 2 years details perfectly all that I loved and now all I miss about a city I feel like is part of me.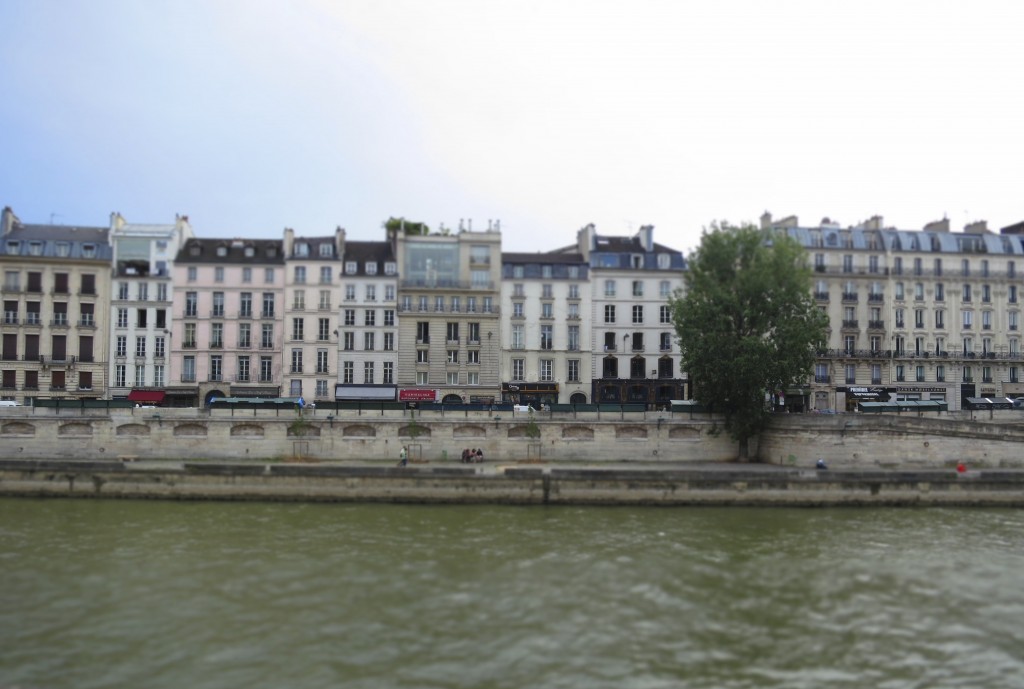 Looking across the Seine…
Voila!  I did it! I named my top 5 travel destinations to date….and I didn't melt!  In fact, this list is indeed an accurate reflection of my favorites as it was soooo easy to compile.
Now tell me your 5 favorites…or 6…or 2!
P.S. If you want to discover some of the creative, extraordinary art I discovered in each of these destinations, jump over to my boutique to do a little shopping…always a great way to learn more about a culture!
I don't have pieces from Mali in the shop YET.  Given the political situation there, it has been hard to get some of my wish items out…but don't worry, I don't give up easily.  I will have some in the shop soon for sure!