5 Places to go in Paris...After you see the Eiffel Tower
Posted on June 16 2015
Audrey Hepburn was right, Paris is always a good idea.
And having lived there for nearly 2 years, I often get asked what to see or do in the City of Light. This inspired me to reflect on a few of my personal highlights or things I think requisite to enhance any Parisian getaway.  Well, okay…"requisite" after you have seen Madame Tour Eiffel sparkle in the evening, waived hello to Ms. Mona Lisa while 12 rows back and on your tippy-toes in the Louvre, retraced the steps of Quasimodo in Notre Dame and shopped until you dropped along the Champs-Élysées…you know, the Paris 101 stuff.
These are more from the Paris 201 syllabus…
5 Places to Go in Paris
1) Dine at La Tour d'Argent
Never have I walked into the dining room of a restaurant and have had a tear well in the corner of my eye…that is until I went to La Tour d'Argent.  Its spectacularly appointed 6th floor dining space with floor to ceiling windows that overlook the Seine and Notre Dame make for a quintessential elegant Parisian experience.  They claim they have been around since 1582 and were a favorite spot of Henri IV. While that may not be exactly provable, they do have record that they have served over 1 million of their most noted dish, pressed duck raised on their own farm. Order one and you will receive a little postcard with the duck's number! My duck was #1,107,658.
My tip, work on charming your server so you may get a tour of their 500,000 bottle wine cellar that is guarded around the clock.
Go at lunch, like the Parisians.
Read more about my experience at La Tour d'Argent here.
2) Musée de l'Orangerie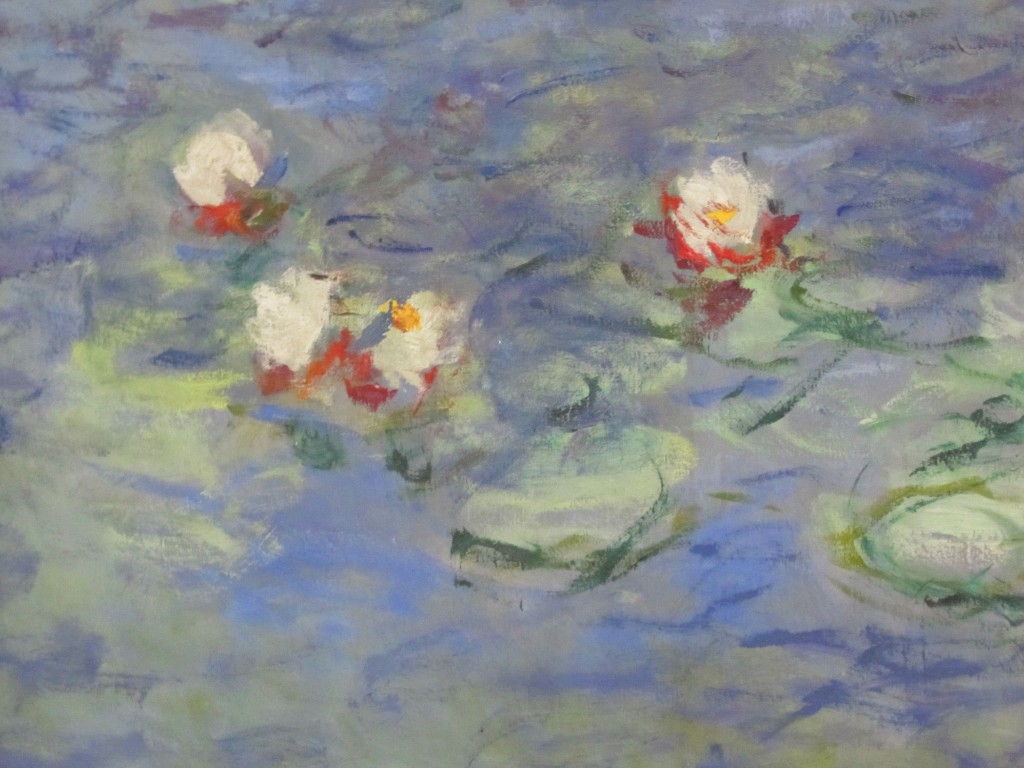 This impressionist and post-impressionist art gallery in Jardin des Tuileries is my favorite. It might not be in a cool old train station like a nearby counterpart, but the transformed orangery is home to the 8 Nymphéas murals by Claude Monet. Each time I visit the large canvases, I get lost in the dreamy  images and brush strokes. Their size and perfection is overwhelming.  I like to imagine an elegant dinner party taking place in these rooms. A long white table, dancing candle light and sparkling drinks surrounded by a master's impressive impressions of a garden in Giverny. Everything would indeed taste better.
My tip, go on the first Sunday of the month when museums are gratuits (free) to enter!
Link to Musée de l'Orangerie website for more info.
3) Les Puces – Le Marché  aux Puces de Saint-Ouen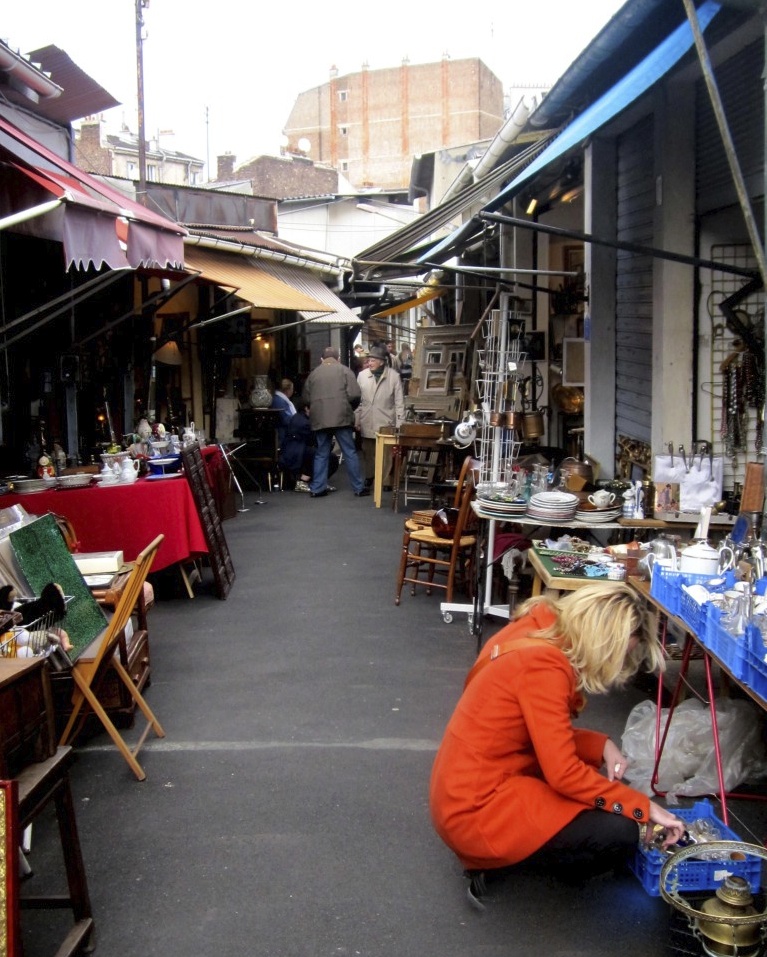 Oh the flea markets of Paris! In a city that is itself considered a treasure, you can head to Les Puces to hunt for a piece of the loot to take home with you!  Warning: I was completely overwhelmed the first time I went. It is quite vast  and at times I felt like I was shopping in Napoleon's apartment at the Louvre versus a "flea market" (with price tags to match).  But don't be daunted! The assortment of beautiful, vintage and unique items will dazzle you! Some items are a bargain too.  My favorite finds: a 1940s mink stow for 40 Euro and the most adorable late 1800s salières from the oldest crystal manufacturer in Europe, St. Louis, for 88 Euro.
My tip, charm the vendors with a bit of French so they sweeten the deal!
Here is a link to more info on Les Puces.
4) A glass of Rosé at Place de la Contrescarpe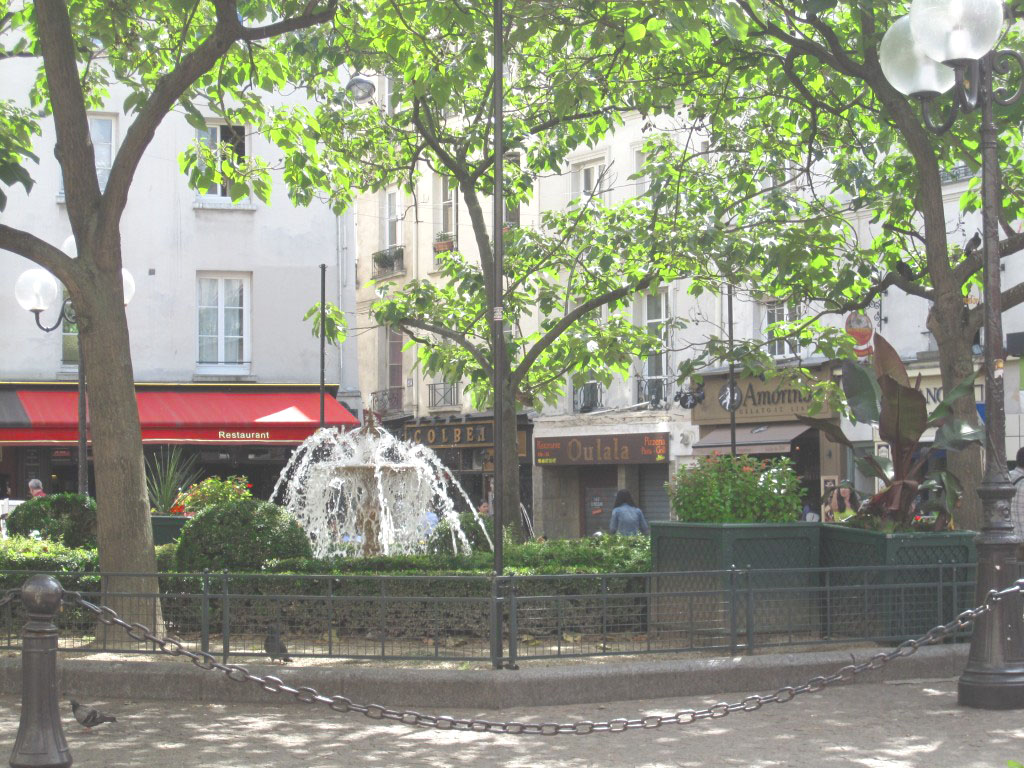 Really there is nothing more Parisian than sitting at a café and basking in le joie de vivre.  Do it with a glass of Cote de Provence Rosé and it will appear as if the routine is just what you do on a regular Tuesday. La Contrescarpe in Place de la Contrescarpe  near the Panthéon was a favorite for friends and I to gather, sit and sip. People watching is at its prime in this young, hip Left Bank neighborhood…although an older, eclectic woman named "Franciose"  stole the show most times we went observing.  An additional highlight is that Ernest Hemingway's  first Parisian apartment is steps away from the place. Perhaps today he would be charmed by the plaza that once was home to a café he described as "the cesspool of the rue Mouffetard"…regardless, I know you will be.
My tip, order food so you can get a carafe of the rosé versus just a glass…who's in a hurry anyway!
More info about La Contrescarpe Cafe.
5) The Catacombs of Paris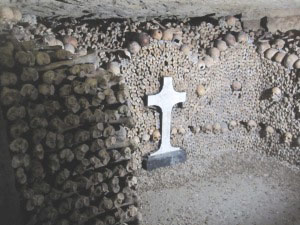 I debated adding death to a list of things "to do" in a city that is renowned for its art of enjoying life, but my solitary time in Paris' catacombs was so profound I couldn't deny it. The hundreds of  kilometers of tunnels that make up Paris' underbelly first started out as limestone and gypsum mines that were quarried to build the likes of the Louvre and Notre Dame. Today it is home to the bones of over 6 million Parisians. The artfully displayed femurs and skulls along with the placards of literary and biblical quotes that reinforce our limited time on this planet created a sight and a sensation I will never forget.  And I don't expect there will  be another time in my life that I enter a sanctuary that displays the cautionary greeting, "ARRÊTE, C'EST ICI L'EMPIRE DE LA MORT" (Stop! This is the empire of death!). The history of this underground is fascinating.
My tip, go in January or February when tourists are minimal. There were moments during my visit when I was completely alone with Paris' predecessors…it made for a very haunting experience. Drinks were required after :).
Read here about my tour of the catacombs and how to get there.
Voila! 5 Choses à Faire! But DO make sure you see the Eiffel Tower first.

And if you do them all, please celebrate with a Baba au Rhum or Tarte au Citron at Jaque Genin's Patisserie in the 3eme.  Nothing like a delectable pastry from one of the world's top chef de pâtisserie to give yourself a pat on the back!